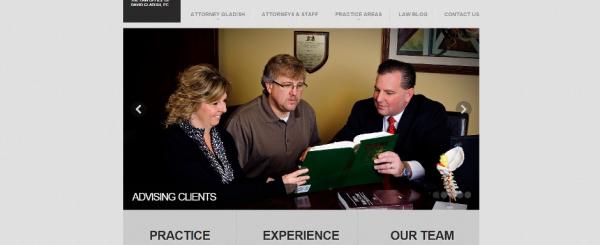 David Gladish Law Website: dgladishlaw.com
Roles: Principal Consultant, Developer
Technologies: Wordpress, CSS
The law office of Attorney David Gladish is located in Highland, Indiana, a city located near Chicago, Illinois. Attorney Gladish is licensed to practice law in the States of Indiana and Illinois as well as having membership in the Indiana Trial Lawyers Association, Lake County Bar Association, East Chicago Bar Association and the Delta Theta Phil Law Fraternity. Attorney Gladish is entitled to practice before all courts of Indiana and Illinois, as well as the United States District Court for the Northern and Southern Districts of Indiana, the Northern District of Illinois and the United States Court of Appeals for the Seventh Circuit.
The focus of the site is to allow visitors the ability to see the law credentials and practice areas of Attorney David Gladish. The site also includes weekly law updates based upon recent decisions of the Indiana Supreme Court and Indiana Court of Appeals.
GladishSolutions has submitted this site to many Northern Indiana focused sites. The success of this can be seen on Quantcast (See: quantcast.com/dgladishlaw.com).
0% of traffic is from paid ads. Top 5 traffic sources are from Google (69%), direct (10%), Yahoo (7%), Bing (5%) Facebook (3%) and Superlawyers.com (1%).
SEO for Google has placed terms: cincinnati hamburger & cincinnati hamburgers on the first page of results. The focus phrase: cincinnati gourmet burgers. According to Analytics, gourmet_burgers.html is the most visited page of the site and nearly 69% of visits come from unpaid Google searches.
Top 5 keyword searches are:
-- david gladish
-- david gladish attorney
-- law office of david gladish
-- get gladish
-- dave gladish
Devices used to view website:
-- Desktop (69%)
-- Mobile (24%)
---- Apple iPhone
---- Samsung Galaxy S
-- Tablet (8%)
---- Apple iPad
---- Kindle Fire HD
Browsers used to view website:
-- Chrome (37%)
-- Internet Explorer (23%)
-- Safari (20%)
-- Firefox (12%)
-- Android Browser (6%)
Avg. Time on Site: 2:32 minutes
Pages/Visit: 2.87 pages
% New Visits: 81.25%
-- Analytics (data for past 12 months) & Quantcast numbers updated December of 2014