Findlay Market Parade
Findlay Market Parade
Roles: Principal Consultant, Developer
Technologies Used: Drupal, HTML, CSS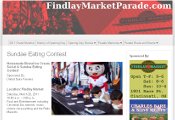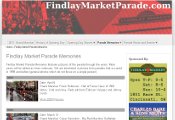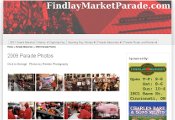 Findlay Market Parade, started in March of 2010, is an informational and fun site about one of baseballs grandest events celebrating opening day in Cincinnati, OH. The site contains a history of Cincinnati Reds Opening Day from official Cincinnati Reds Team Historian, Greg Rhodes. There is also a collection of Opening Day Stories provided by the Owner of the Cincinnati Reds, Bob Castellini, Mr. Perfect, Tom Browning and a host of Cincinnati Television and Radio Personalities.
The site was created using the CMS Drupal. The site allows users to see enlarged images of pictures taken by individuals (credits given on each page of photos) contracted by Gladish Solutions and The Findlay Market Association using PrettyPhoto, which is a jQuery lightbox clone.
0% of traffic is from paid ads. Top 5 traffic sources are from Google (74%), direct (8%), Bing (4%) yahoo (3%) and cincinnati-oh.gov (3%).
Top 5 keyword searches are:
-- reds opening day 2012 parade
-- reds opening day parade 2012
-- cincinnati reds opening day parade 2012
-- findlay market parade
-- reds opening day parade
Avg. Time on Site: 1:47 minutes
Pages/Visit: 2.7 pages
Visits 25,768
Pageviews: 68,367
% New Visits: 81.12%
Since July 1 of 2011, the site has been viewed by individuals in every state. The focus of the visits has been the Tri-State (Ohio, Kentucky and Indiana) as well as Illinois and New York.
-- Analytics numbers are given for January 1 through October 1 of 2012